Craftsy Online Class Giveaway: Quilled and Sculpted Cards
I'd like to introduce to you, my friend Cecelia Louie, of Paper Zen. Author of the book, Pretty Quilled Cards, she creates amazing paper quilling works of art. Now, add Craftsy Instructor to the list.
She's a VERY talented lady and I'm honored to know her.
One lucky reader will have the chance to win her Craftsy class: Quilled and Sculpted Cards. (It retails at $29.99, but is on sale for $19.99, a 33% savings.)
Craftsy offers a happiness guarantee on all of their classes – 100% satisfaction or a refund within 30 days of purchase. In addition, Cecelia is always available to answer questions from class participants.
Apologies for the unaligned video, issues with my blog today.
There were many things about Craftsy that impressed me. It takes a talented team to put a class together, beside ensuring I looked and sounded good (and feeding me well too!). Throughout the entire process, Craftsy focused on teaching skills that students could then use in other projects.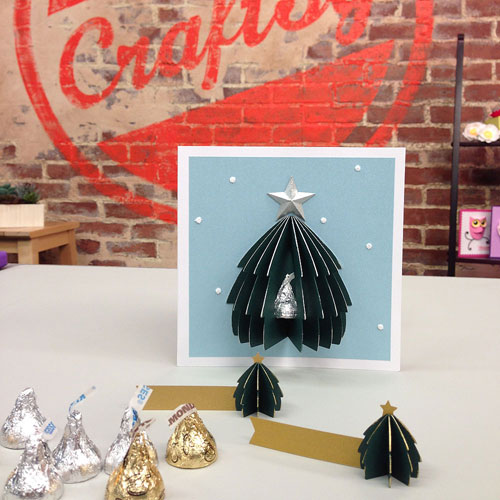 For my first lesson, I teach how to make a Fanned Die Cut Christmas Card. It even holds a little prezzie in the tree – a Hershey's Kiss! Rather than throw away the paper in the middle, I thought it would be nice to make a bonus item, so I came up with a mini tree that also works as a place card or a menu item note. The 3D star sits flat on the card and puffs up while you start forming it. It's hard to see in this photo, but in the class, I show a method to make them textured and look like fluffy flakes!
In Lesson 3, I teach how to sculpt your die cuts, so that they take on more life and movement. I love combining quilling with my paper projects, and show how to accent the card with simple scroll embellishments.
I'm pretty sure the topmost item that inspires most people to take up quilling is snowflakes. In Lesson 7, I supply pre-measured quilling strips (I like to cut my own) and a grid to follow along to make it super easy.
There are 7 lessons in total and run for about 20 minutes or so each. If you've never heard of Craftsy before, it's an online learning classroom for a wide range of hobbies. Your class never expires and I check in to answer questions.
She's also designed these 3 pumpkins for you to carve for Halloween! Go trick-or-treating at All Things Paper for the TALL pumpkin, then visit Jin's home Under a Cherry Tree for the ROUND pumpkin patterns and enter for a 3 chances to win her class!
House #1 – Round Pumpkin
Jin Yong's house is Under a Cherry Tree and she has the most amazing ways of taking regular die cut files and transforming them in subtle ways to become more tactile and dynamic.
All Things Paper is what you'll discover at Ann Martin's house. Ann creates the most exacting quilling pieces, and pairs them delicately with wedding certificates and invitations. She also has a discerning eye for all the different ways we manipulate paper. Just like a newspaper, she edits out the clutter and delivers the best of paper creations by talented paper enthusiasts.
House #3 – Wide Pumpkin
Click here for the wide 3D Paper Pumpkin with step by step directions and cutting pattern file.
I'm very honored to have teamed up with these two incredibly talented ladies Jin and Ann to bring you these awesome pumpkin freebies and giveaway. I want to thank Cecelia, for this wonderful opportunity. The giveaway will end 7th of October, 2015. Please leave a comment below to be entered for the giveaway, be sure to leave a way for me to contact you.
Thank you for stopping by.
~Michelle~
(Visited 796 time, 1 visit today)